#thegirlwiththepaykan
At a time, when political and economic dialogues fail, it is the work of the artist to become an embassador for transcultural communication.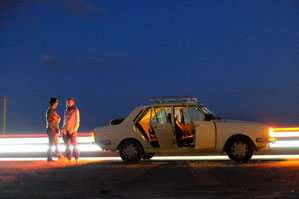 Rebecca Egeling undertook a roadtrip across Iran looking at things that vanish from the Iranian Culture.
Rebecca talked to the Bakhtiaris about the loss of their nomadic life style since oil was found in their grounds or she wonders about the social impact of change in architecture, when the quality of proximity of old traditional housing is replaced by density of population in scysrapers. Driving a Paykan, the old Iranian "Volkswagen" which forms part of the collective cultural memory of every Iranian, she quickly made a name for herself as "the girl with the paykan".
Research
13th of April to 5th of May 2019
Funding & Support
The research was locally supported by: Roshanak Roshanaee, Sohrab Roshanaee, Mehran Davari, Hadi Naji, Hasti Heidari, Mahshid Motamed, Mina Darvish, Atefeh Dadgostar, Hamidreza Dadgostar, Banafsheh Riahi, Zahra Shahbazi Tabar, Peter Pirhosseinlou, Claudia Nejati, Christina Olbrich, Nanna Reinfeld.